Sector: Hospitality
Details: Casual dining serving Neapolitan pizza
Location: Various London locations and Oxford

The hip pizzeria first made its mark on the London scene in Soho's Berwick Street market in 2012. The popular concept was founded by brothers James and Thom Elliot who always wanted to break into the food industry after witnessing their parents running pubs. With no experience in the business, apart from James doing a cooking course in Italy, the duo decided to take advantage of the food truck boom that was sweeping through the capital. They noticed that no one was doing pizza so the pair took a "pilgrimage" through Italy (alongside a camera crew documenting their experience which would be aired on Food Network TV) and brought everything they learnt back to London. With minimal financial backing, they decided that they need to gain as much free PR as possible to get the brand out there, and what better way to do it than during busy lunch service in Soho's Berwick Street market. This took them to serve their much-loved Neapolitan-style pizza at major events and festivals and even landed them a cookbook deal with Harper Collins.
With the help of James' godfather Rupert Cleverly, the founder of the Geronimo Inns pub chain, the brothers got 15 industry experts to invest in their first restaurant which opened on Dean Street in Soho in August 2013. Next, Pizza Pilgrims took over a site in Carnaby's Kingly Court and by end of 2015, they unveiled a small space in Exmouth Market as well as Covent Garden.
""If Neapolitan pizza is your thing, you will struggle to find it done better than Pizza Pilgrims""
Matthew Norman, The Telegraph
Pizza Pilgrims Today
Now their portfolio includes other London hotspots such as Camden, Shoreditch, Swingers Crazy Gold City, London Bridge, Waterloo, Victoria, West India Quay, Westfield and the first location out of the capital that can be found in Westgate centre, Oxford.
Our Involvement
One of our projects included the Victoria location (32-34 Buckingham Palace Road) which is just a short walk away from Buckingham Palace. Taking inspiration from the pilgrimage the brother went on at the start of their journey, each room of the restaurant has been inspired by a different region of Italy. A nod to the Amalfi coast can be spotted at the lemon-decorated bar while the private dining room mimics traditional wine cellars that can be found in Tuscany. Want to transport yourself to the Emilia-Romagna region? Then saunter through the parmesan corridor which is located between the main restaurant and the wine cellar.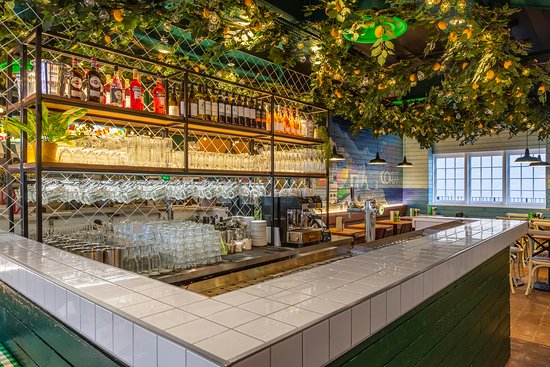 Contact Us

Get in touch