Happy Holi!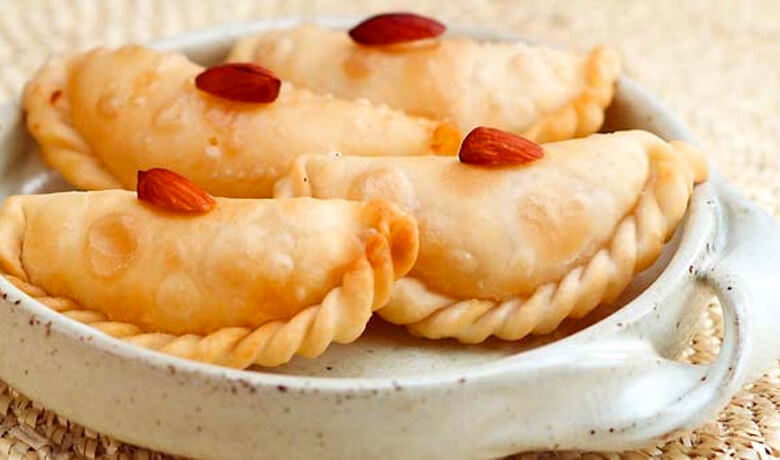 Holi is a spring festival also known as the festival of colours. It's a day where you play, chase and colour each other with dry power and coloured water, so much fun at the time but a nightmare to get out your hair and I'm speaking from first-hand experience. But apart from using a whole bottle of shampoo and taking an hour in the shower, it's all about the sweet treats you're surrounded by too. A personal favourite of mine is my mum's homemade Gujiyas – a deep fried pastry with a sweet filling of evaporated milk and dry fruits. It's devilishly moreish and with a guarantee to add a few extra pounds to your waistline. Homemade ones are always the best, that's why I am going to let you into a secret recipe that my mum uses via vegerecipesofindia.com:
For the dough:
2 cups refined flour
1 cup ghee
Water to mix
Rub 1/4 cup ghee into the flour and knead into a stiff dough with water. Cover the dough with a damp cloth and keep aside for thirty minutes.
For the filling:
1 cup khoya (a dairy based product widely used in Indian cuisine made of either dried whole milk or milk thickened by heating in an open iron pan. It's available in Asian supermarkets)
1 cup sugar
1 tsp green cardamom – powdered
2-3 tbsp almonds, pistachios and cashew – finely chopped
Ghee for deep-frying
Sauté the khoya over medium heat till it looks slightly fried. Take the pan off the heat and when it cools, mix in the sugar, cardamom and almonds and mix well. Let the mixture cool down. Shape the filling into ovals about 21cm length and 1 cm thickness.
Preparing the gujiya:
Make balls of the dough and roll out into 1 cm/1/8 in thick rounds. Put a few tbsps. of the khoya filling on one side. Apply small amount of water on one side of the outer edges. Cover and press the edges together and cut the excess dough from the edges with a pastry cutter and pleat the gujiyas neatly from the top to the end. Continue this until mixture and dough has been used.
Cooking the gujiya:
Deep fry the gujiya in moderately hot oil until they are golden brown. Drain the gujiyas on kitchen paper towls to remove excess oil.
Voila! Your gujiyas are ready to be served…make sure you have a sneaky one or two before though!